Maquette des décors de Sébastien Dupouey et Nina Wetzel
L'Opéra de Dijon présente une nouvelle mise en scène signée Mikaël Serre du chef-d'œuvre d'Offenbach, Les Contes d'Hoffmann.

Les Contes d'Hoffmann ressemble à une sarabande infernale et surnaturelle, une quête où le héros rencontre Olympia, automate sexy créé par un savant fou, Antonia qui ne peut chanter sans mourir et Giulietta, une courtisane désirant lui dérober son reflet. « Lorsqu'on met en scène cet opéra d'Offenbach, le risque est de développer un discours fantastique un brin farfelu… et d'en rester là », explique le metteur en scène Mikaël Serre.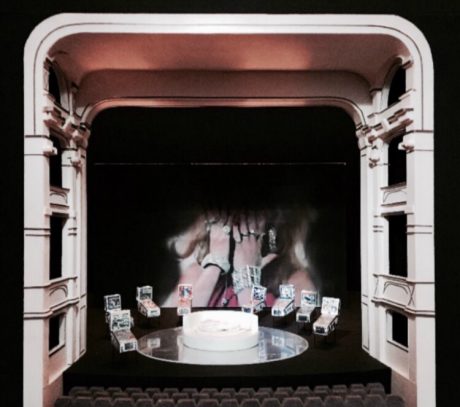 Pour sa première lyrique, il a exploré les arcanes de l'œuvre en compagnie de son complice, le vidéaste Sébastien Dupouey, avec des références esthétiques venues du cinéma, « Phantom of the Paradise de Brian De Palma, Tommy des Who ou encore les films d'Hitchcock sur le thème du double ». Il a notamment choisi de questionner le « regard que les hommes portent sur les femmes et le statut de l'artiste », rajoutant des parties parlées au livret, extraits de Nietzsche car « nous sommes dans la continuité du romantisme et au moment de la naissance du nihilisme » ou de poésies de Houellebecq, le « Hoffmann d'aujourd'hui ».
 Au Grand Théâtre (Dijon), du 14 au 23 décembre

> Rencontre avec l'équipe artistique dimanche 17 décembre à 19h