Jana Sterbak, Actaeon at Home, 2005-2011. Courtesy Jana Sterbak und Galerie Barbara Gross, © Jana Sterbak
Avec In The Cut, la Stadtgalerie Saarbrücken revisite le corps masculin, croqué et sexualisé par d'illustres artistes féministes.
Du rôle décisif – aussi inconscient soit-il – joué par la sexualité dans l'Histoire de l'Art, la directrice de la Stadtgalerie Saarbrücken, Dr. Andrea Jahn offre un savant contrepoint : face à l'omniprésence des représentations érotisées de corps féminins, épanchement de désirs et de sensualité toute masculine, In The Cut propose un point de vue entièrement féminin. D'une Louise Bourgeois portraiturée à plus de 70 ans par Robert Mapplethorpe, le regard espiègle avec sa Fillette (sculpture d'un énorme pénis en érection) sous le bras, aux portraits signés Paula Winckler, jeune trentenaire utilisant un site de rencontre pour donner rendez-vous à des hommes qu'elle fait poser, se rejoignent plusieurs générations d'artistes.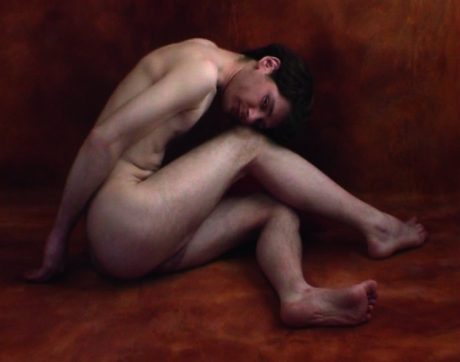 Derrière un voile ou trônant dans le plus simple appareil tel un roi nu sans éclat, le mâle est présenté sous toutes les coutures. Se découvrent des corps et êtres fragiles aux organes proéminents chez Herlinde Koelbl, la verge politique de L'Origine de la guerre d'ORLAN répond à la vulve Courbetienne de L'Origine du monde ou encore l'humour joyeux de Jana Sterback dont le tee-shirt transparent à poils sur une poitrine nue bouscule les genres. Susan Silas ose même les photos d'ébats post-quinqua dans la série Love in the Ruins. Aussi touchant que cru.
---
À la Stadtgalerie Saarbrücken, jusqu'au 30 septembre
stadtgalerie.de