Simone Mousset : Empire of a Faun Imaginary © Camilla Greenwell
Nouvelle création de Simone Mousset, Empire of a Faun Imaginary est une audacieuse réponse à l'état de crise permanent.
Artiste associée de l'Escher Theater, la chorégraphe luxembourgeoise s'inspire de l'extrême réduction du champ des possibles et de la « suspension mélancolique, claustrophobe, mais aussi libératrice et glorieuse du temps » durant l'année 2021 pour composer Empire of a Faun Imaginary. « Cette période m'a révélé le pouvoir en quelque sorte alchimique des pratiques liées à l'imaginaire, toujours cachées, mystérieuses et intimes », confie celle qui invente un monde en quête de miraculeux.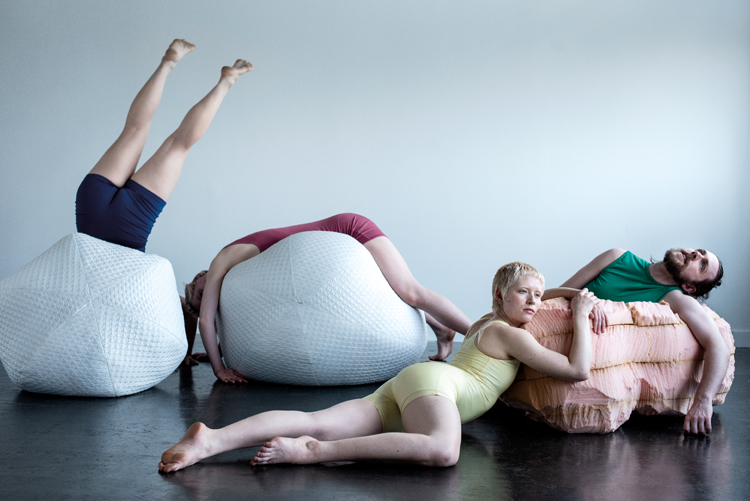 Étranges sculptures, poils-fourrures et autres surprises peuplent, sous des dehors minimalistes, cette pièce « boueuse, sale et sauvage », oeuvrant « dans le royaume de l'utopie et du rêve, comme un cri déchirant, mais inaudible ». Un défi total et instable pour les corps, où « la voix tient le rôle d'une condition météorologique intérieure, reflétant les troubles et paysages émotionnels des êtres » qui traversent ce spectaculaire voyage mental.
---
Au Escher Theater (Esch-sur-Alzette) du 9 au 11 décembre dans le cadre d'Esch2022, Capitale européenne de la culture
theatre.esch.lu