Le second programme du Ballet de Lorraine invite à des Festivités sous forme de redécouverte du répertoire récent du CCN.
Ils remettent ça ! Il y a deux saisons, nous prenions un malin plaisir à découvrir à l'aveugle cinq courtes pièces s'enchaînant (Plaisirs inconnus). Des propositions sans titre ni signature, invitant au pur délice du geste et du regard, dénué des carcans des noms et des réputations, de l'imaginaire qui s'y attache. Une expérience unique servie par cinq chorégraphes mystères pour le corps de ballet du Centre Chorégraphique national de Nancy. Quelques jours plus tard, l'américaine Twyla Tharp est mise à l'honneur avec In the upper room, The Fugue et Nine Sinatra Songs.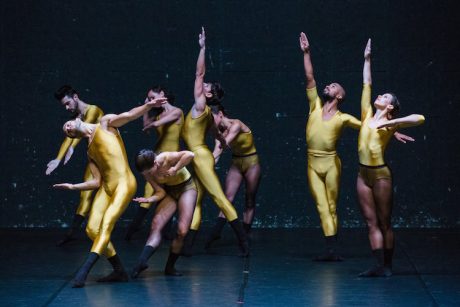 Des pièces maîtresses piochant allégrement dans le répertoire contemporain, les mouvements classiques (pas, portés et jetés) se révélant à la manière de standards de jazz revisités. Les danseurs sont mis à rude épreuve, tournoyant dans des élans aux impulsions athlétiques. L'utilisation des pointes se fait quasiment oublier au profit de vagues d'évolutions chorales célébrant l'énergie, le partage. Enfin, séance de rattrapage obligatoire du Surréalisme au service de la révolution de l'excellent Marcos Morau qui offre ses visions désarticulées, prophéties collectives déraillantes, nimbées de mystère et d'étrangeté troublante faisant vaciller nos perceptions.
---
Plaisirs inconnus, à l'Opéra national de Lorraine (Nancy), mardi 26 février puis à La Coupole (Saint-Louis), mardi 2 avril
opera-national-lorraine.fr
lacoupole.fr
Le Surréalisme au service de la révolution, The Fugue et Nine Sinatra Songs, à l'Opéra national de Lorraine (Nancy), vendredi 1er et dimanche 3 mars
opera-national-lorraine.fr
Murmuration et In the upper room, à l'Opéra national de Lorraine (Nancy), du 7 au 10 mars 
opera-national-lorraine.fr
ballet-de-lorraine.eu